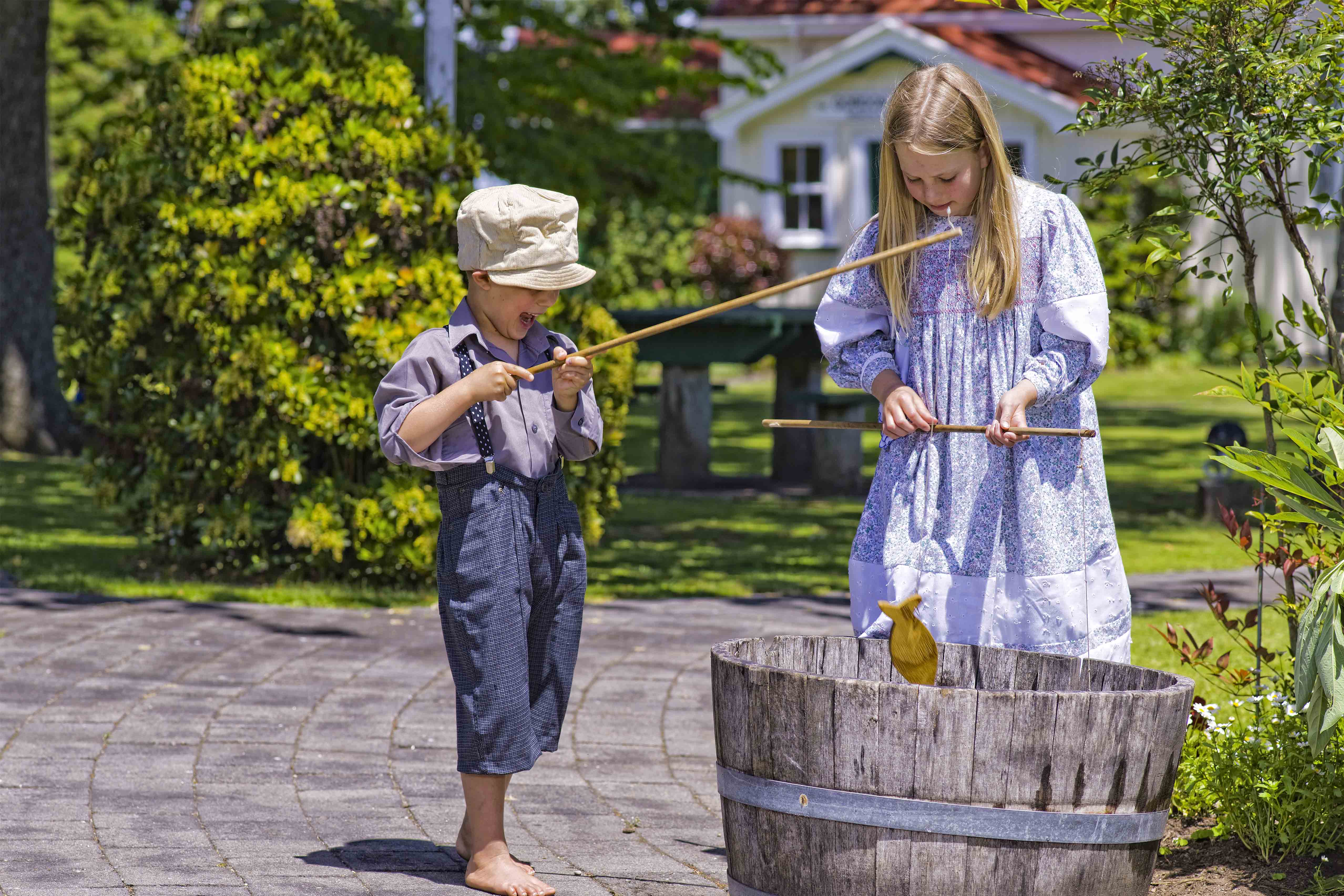 Schools and groups
Firth Tower Museum offers an interactive education programme that provides an opportunity to engage in 'hands on' activities to gain appreciation of life in New Zealand in the late 1800s and early 1900s.
Activities can be tailored to suit all types of groups, ages and abilities. We organise the day to fit within your requested timefames. Simply contact us to discuss your requirements and make a booking.
Schools and groups activity brochure.
School groups
The activities are designed to bring to life the early European settlers in the Matamata area. We encourage school groups to dress up to help the children get a more authentic experience from the day. Simple costumes can be made from items found in op shops or Grandma's house, including:
Girls: 3/4 length skirt or dress, pigtails, long socks, shoes and a hat. You could also include a pinafore, petticoat, jackets/coats and lace collars (not shawls).
Boys: 3/4 pants or trousers, button up shirt and hat or cap. You could also include a tie, waistcoat, braces and long socks with shoes.
We can tailor activities for preschool, kindy or in-home childcare groups. Simply contact us to discuss your requirements and make a booking.
Buses and group visits
Enjoy a blast from the past and recall how our great grandparents lived and worked in the Edwardian age. Cost $5.00 per person. Bus driver free of charge. Tea and coffee available from 10am and until 2pm at $2 per person, whole group only. BYO snacks. Bookings essential.
You are welcome to bring your own morning tea and/or picnic lunch. Sit in the park or on the Homestead verandah and enjoy the sun. Additional activities offered for groups are telegrams, silent movies, photoboard and the the pre-loved book shop.
Activity options for groups
Butter making
Students each have a go at turning cream into butter. They begin the activity with a story of how butter used to be made. After this they change into 19th century clothing and apply the knowledge they have learnt from the story, having a go themselves at making butter. They then get to taste what they've made on a biscuit or cracker.
Great Grandma's washday (recommended for warmer months)
Like in great grandma's day this activity is done outside using the same tools and methods as "back in the day". The students have to source their own water from a well and use the washboard, dollies and a wringer. Clothing is hung on the line with wonderful old wooden pegs.
Silent movie
Students get to experience movies just like children 100 years ago - in black and white with no sound. Students are encouraged to get involved and make the sounds just like movie-goers did in the silent movie days.
Victorian outdoor games
Students get to compete in a wide variety of games and play with 1800s toys. Games include three legged race, fishing game, blocks/stilts, and much more. This is a good chance for children to get outside in the fresh air to learn and play without a screen or technology.
Treasure hunt
Enjoy hunting for the clues hidden all over the grounds while exploring the museum.
School lesson
Enter into our Victorian classroom where children will be expected to be on their best behaviour with clean fingernails. The 30 minute lesson includes hand writing, counting, nursery rhymes and a good dose of the 1850's strict discipline. Age appropriate teaching will apply depending on the age group.
Candle making
Students will experience making their own candles from a wick and beeswax, including experimenting with colours. This is a great opportunity for some hands on learning.